Thermaltake Core V51 Riing Edition
The new Core V51 Riing Edition, designed in a green color theme with three preinstalled 140mm green Riing fans to match other green components in aesthetics, delivering an outstanding cooling performance with the compatibility for the extensive DIY/AIO LCS. Core V51 Riing Edition is an enthusiast's grade mid-tower that creates unprecedented space for high-end hardware and liquid cooling expansion, supporting the latest E-ATX, ATX, Micro ATX motherboards, and all high-end GPU cards.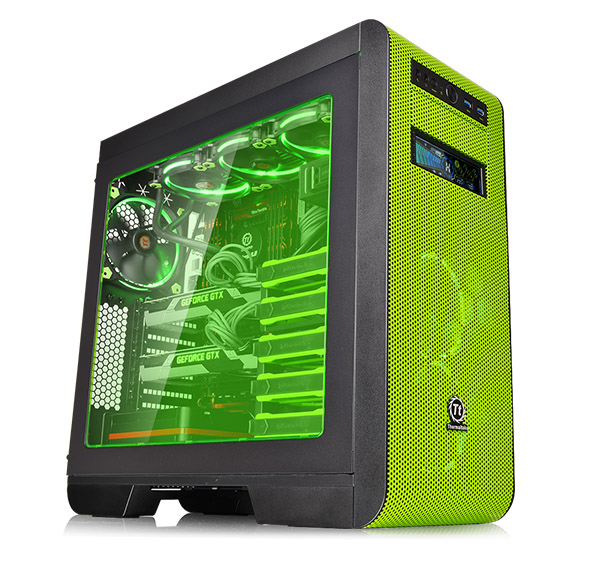 Tt LCS Certified
Tt LCS Certified is a Thermaltake exclusive certification applied to only products that pass the design and hardcore enthusiasts standards that a true LCS chassis should be held to. The Tt LCS certification was created so that we at Thermaltake can designate to all power users which chassis have been tested to be best compatible with extreme liquid cooling configurations to ensure you get the best performance from the best features and fitment.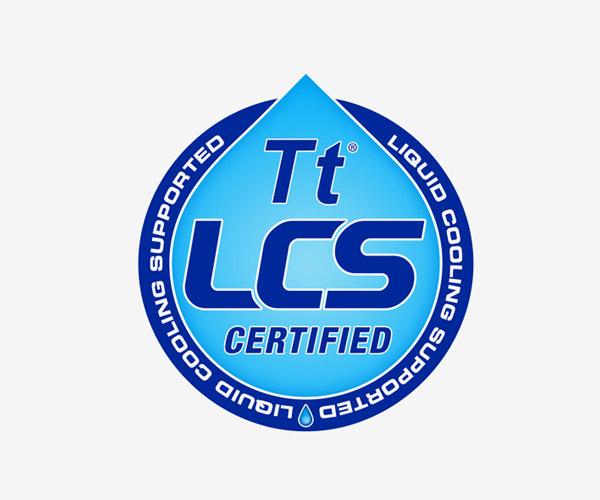 Riing 14 Green High Static Pressure Radiator Fan
Three 140mm fans fitted to enhance static pressure that produces impressive cooling performance. Hydraulic bearings for silent operation guarantee ultra-low noise with LNC (Low Noise Cable). In addition, an anti-vibration mounting system strengthens the stability during operation. The patented LED Ring maintains color and brightness uniformity.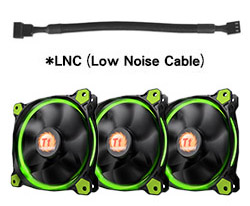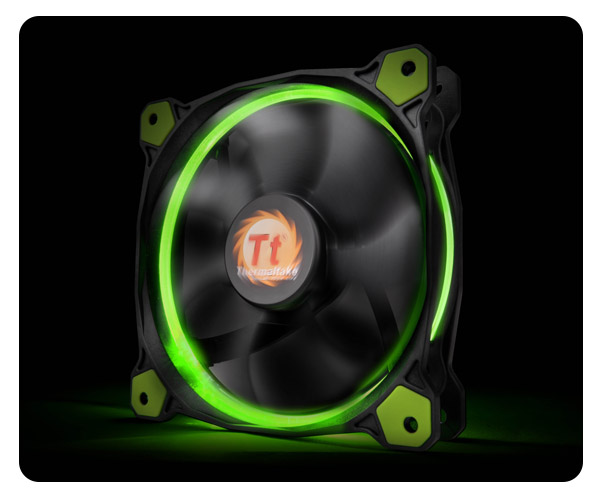 Enthusiast Design
Designed for gamers, the perforated top panel allows easy heat dissipation and rapid air intake for maximum ventilation. The heightened case-stands at the bottom help to enhance airflow and overall stability during operation. Featuring a green side window to offer a direct view of the inner system.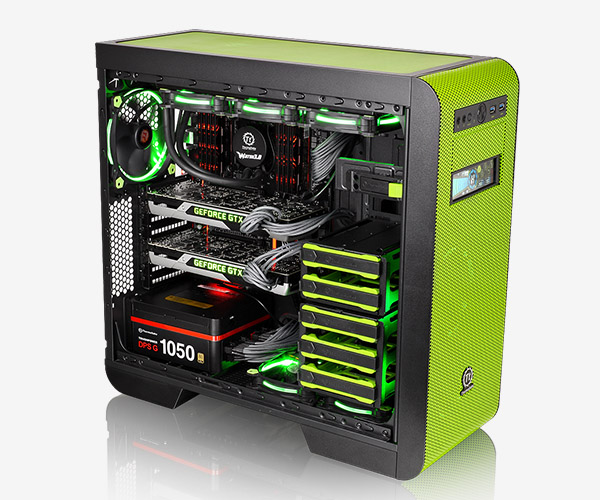 Tool-free Installation
Innovative 5.25" & 3.5" tool-free drive bay design has minimized the hassles of installing/removing. "2 + 5" drive bays with modular drive racks, a typical ratio for accessory and storage devices.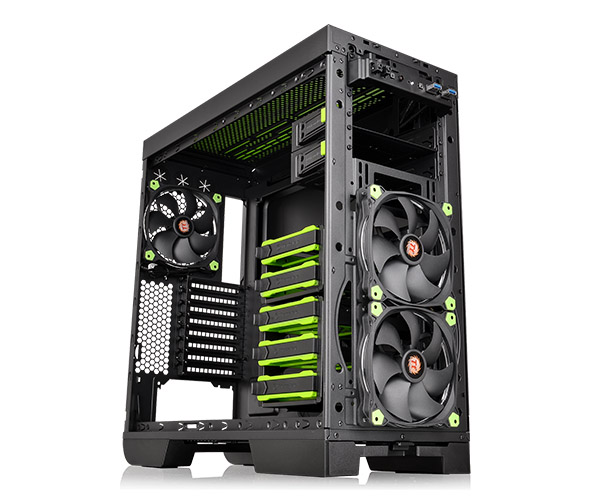 Fully Modular Design
A highly customizable 5.25" & 3.5" drive bay feature enables users to freely interchange the 3.5" hard-drive cages to suit their needs and remove the 5.25" & 3.5" drive bays to gain maximum interior space for advance cooling performance or liquid system build.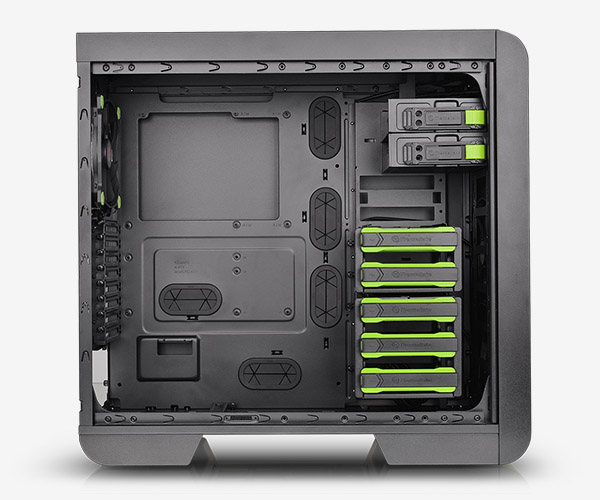 Outstanding Ventilation
Core V51 Riing Edition delivers an outstanding cooling performance, consisting of DIY/AIO liquid cooling systems and air cooling units. Two 120mm intake fans are hidden behind the front dust filter, quietly pushing vast amounts of air over the hard drives and GPUs. The air is then extracted by the third 120mm fan at the rear. Additionally, with the aid of the cable management design guaranteed to take the cooling performance to the next level.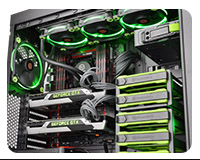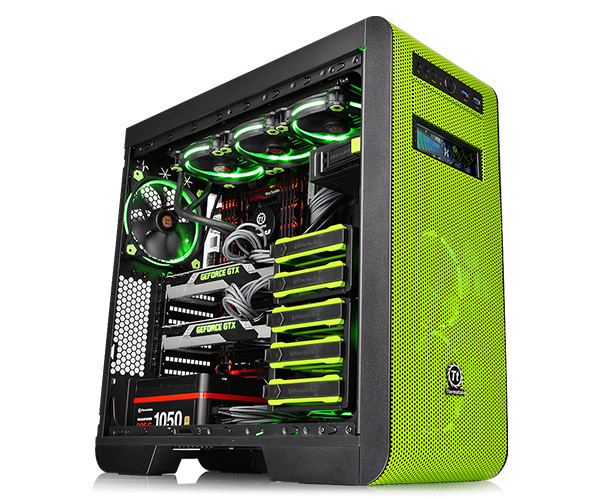 High-end Complete Solution
Core V51 Riing Edition enables users to build a complete high-end system, whilst supporting up to either 420mm radiator liquid cooling, or 200mm case fans, with a long graphic card at the same time, and simultaneously protecting the user's hardware as well as increasing the CPU's overclocking potential. Most importantly, it has the capability to deliver an outstanding cooling efficiency throughout the entire case.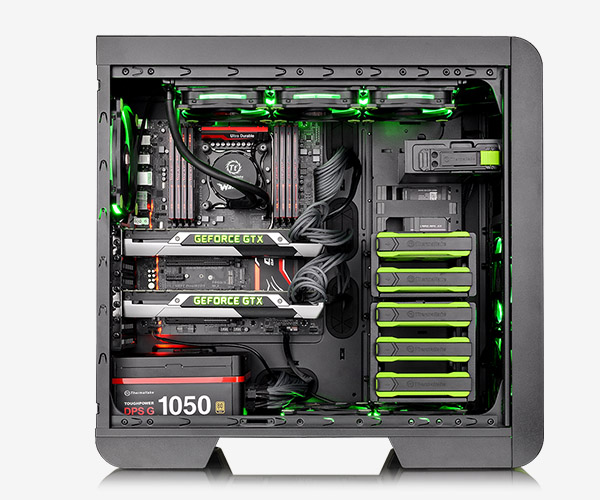 Power Cover Design (Optional)
With power cover design, the entire bottom area can be used to reorganize unused cables, which makes for a tidy-looking system. Furthermore, the PSU cover can hold two additional 2.5" HDD drive bays.
If you would like to select the chassis with power cover design, please check Core V51 Power Cover Edition.
Core V51 PC Edition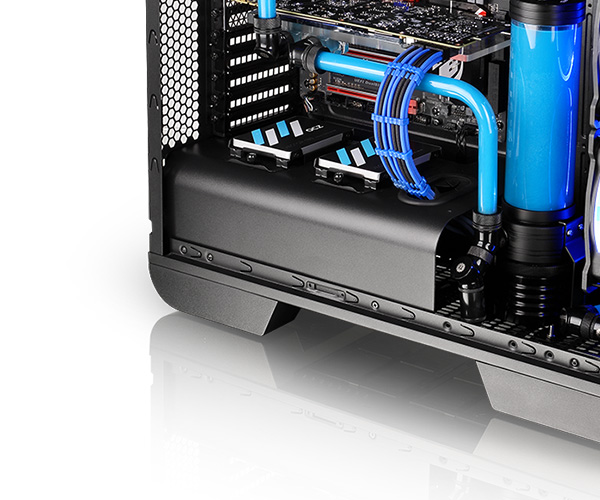 Optimized Cooling Performance
Radiator Compatibility List
120
mm
140
mm
240
mm
280
mm
360
mm
420
mm
Front
*
*
*
*
*
*
Top
*
*
*
*
*
*
Rear
*
*
Bottom
*
*
Water 3.0 Compatibility List
Ultimate
Extreme/ Extreme S
Pro
Performer/ Performer C
Front
Top
*
*
*
*
Rear
*
*
Bottom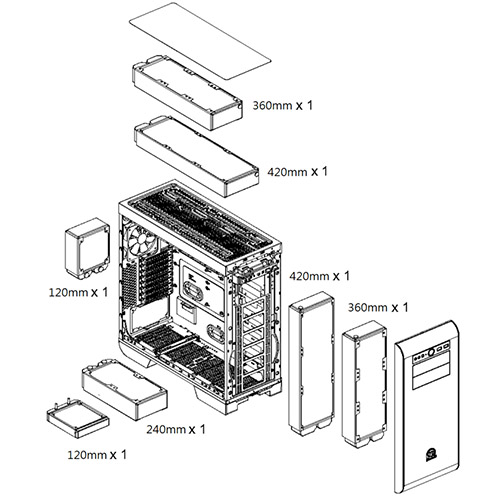 Core V51 Riing Edition Fan Supporting List
Fan Compatibility List
80mm
120mm
140mm
200mm
Front
-
3
2
1
Top
-
3
3
2
Rear
-
1
1
-
Bottom
-
2
-
-
Thermaltake Compatible Fan
80mm
120mm
140mm
200mm
Pure Fan Series
-
*
*
*
Luna Fan Series
-
*
*
*
Riing Fan Series
-
*
*
-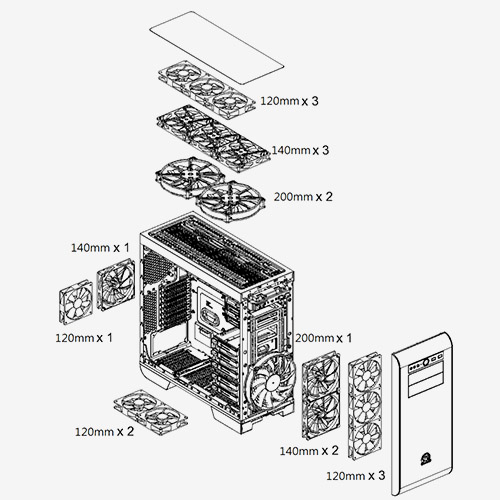 More Information
P/N
CA-1C6-00M8WN-00
Séries
Core
Model
Core V51 Riing Edition

TYPE DE BOITIER
Mid Tower

DIMENSIONS (H x L x P)
540 x 236 x 560 mm
(21.3 x 9.3 x 22 inch)

POIDS NET
10.8 kg

PANNEAU LATÉRAL
Green Transparent Window

COULEUR
Exterior & Interior : Black

MATÉRIEL
SPCC

SYSTÈME DE REFROIDISSEMENT
Front (intake) :
140 x 140 x 25 mm Riing LED Green fan (1400rpm, 28dBA) x 2
(1000rpm, 22dBA with LNC)
Rear (exhaust) :
140 x 140 x 25 mm Riing LED Green fan (1400rpm, 16dBA)
(1000rpm, 22dBA with LNC)

BAIES DE LECTEUR
-Accessible : 2 x 5.25''
-Hidden : 5 x 3.5'' or 5 x 2.5''
FENTES D'EXTENSION
8

CARTES MÈRES
6.7" x 6.7" (Mini ITX), 9.6" x 9.6" (Micro ATX), 12" x 9.6" (ATX), 12" x 13" (Extend ATX)

LCS Upgradable
Supports 1/2"、3/8"、1/4" water tube<br />
PORT E/S
USB 3.0 x 2, HD Audio x 1

Bloc Alimentation
Standard PS2 PSU (optional)

SOUTIEN DES VENTILATEURS
Front:
3 x 120mm
2 x 140mm
1 x 200mm
Top:
3 x 120mm
3 x 140mm
2 x 200mm
Rear:
1 x 120mm or 1 x 140mm
Bottom:
2 x 120mm
SUPPORT RADIATEUR
Front:
360mm
1 x 420mm
Top:
1 x 360mm
1 x 420mm
Rear:
1 x 120mm
Bottom:
1 x 240mm
AUTORISATION
CPU cooler height limitation:
185mm
VGA length limitation:
310mm(with HDD rack)
480mm(without HDD rack)
PSU length limitation:
220mm (With Bottom Fan)
User Manual
File Name
La description
Size
Version
Release Date